Regular price
Sale price
£44.00 GBP
Unit price
per
Sale
Sold out
The Goddess Guide is a spiritual manifestation, personal-growth and self-development planner all in one that helps you to create harmony and fulfilment in all areas of life.
Share
Whats Inside?

Soft Luxury Vegan Leather, 12 Month Undated Planner with gold foiled design, gold ribbon and metallic gold end papers.

*'The Goddess' poem by Marianne Williamson

*Goddess Guide Journey (Explanation of the 8 Simple Steps)

*Self-Awareness & Discovery

*Imagination & Visualisation

*Achieve Our Desired Goals

*Empowering Beliefs and Behaviours

*12 x Monthly Reflection Pages

*12 x Monthly Layout Pages

*52 x Thoughts, Feelings and Creativity Pages

*52 x Weekly View Pages Inc. Ritual Tracker, Weekly Manifestations and Weekly Mantras

*52 x Weekly Diary Spread (Monday to Sunday)

*Reflect and Celebrate Life (End of Year Reflection)

7 x Free flow Space

Filled with positive affirmations and inspirational quotes to raise your emotional vibration and enrich your soul.
Symbolisation and Meaning

Aquamarine:
The stunning Aquamarine gemstone symbolises clarity, purity, vitality, transformation, and rebirth. Blue is considered calming and signifies peace, wellbeing, trust, truth, loyalty, faith, and wisdom. It also represents unexplored waters and new beginnings.

Chakra Information:
Chakras play a role in the free flow of energy through your body. Running from the base of your spine to the crown of your head. When one or more chakras become blocked or unbalanced it is thought to have an impact on your physical, mental, spiritual, and emotional health and wellbeing.

Related Chakra
Third eye and Throat Chakra
The opening of the Third Eye Chakra helps you to see things clearly and is linked to perception and a heightened awareness. It is also connected to your intuition and inner wisdom, and is believed to be the gateway to your soul.
The opening or unlocking of the Throat Chakra is responsible for communication, self-expression, and the ability to speak your truth.

Materials & Measurements

Dimensions: 24cm x 16.5cm

It was important to me to design and create something as beautiful on the inside as it is on the outside. I wanted the Goddess Guide to be in alignment with my own standards and beliefs, as well as with the Universe itself.

That's why the Goddess Guide was designed and produced in the United Kingdom with love, using a soft luxury vegan leather material, FSC Certified paper and printed using low alcohol presses and vegetable-based inks.
Delivery and Returns

Delivery

Free delivery on all orders over £45 in the UK mainland. All other delivery costs calculated at checkout.

Returns

All items are returnable within 14 days of receipt and must be returned as new in original packaging for a full refund or exchange.

*Please note that delivery costs are non refundable.

* Gift cards are non refundable. 
View full details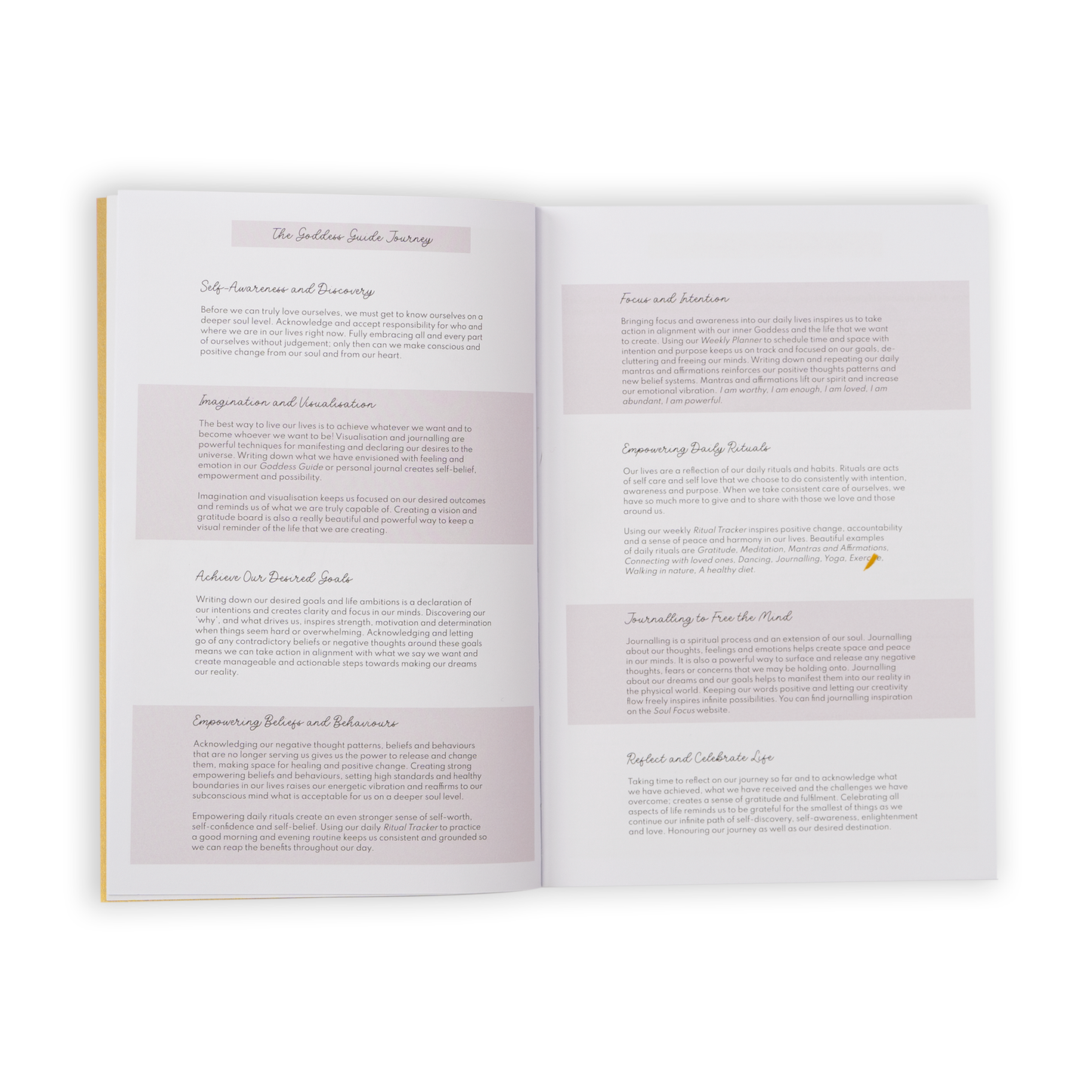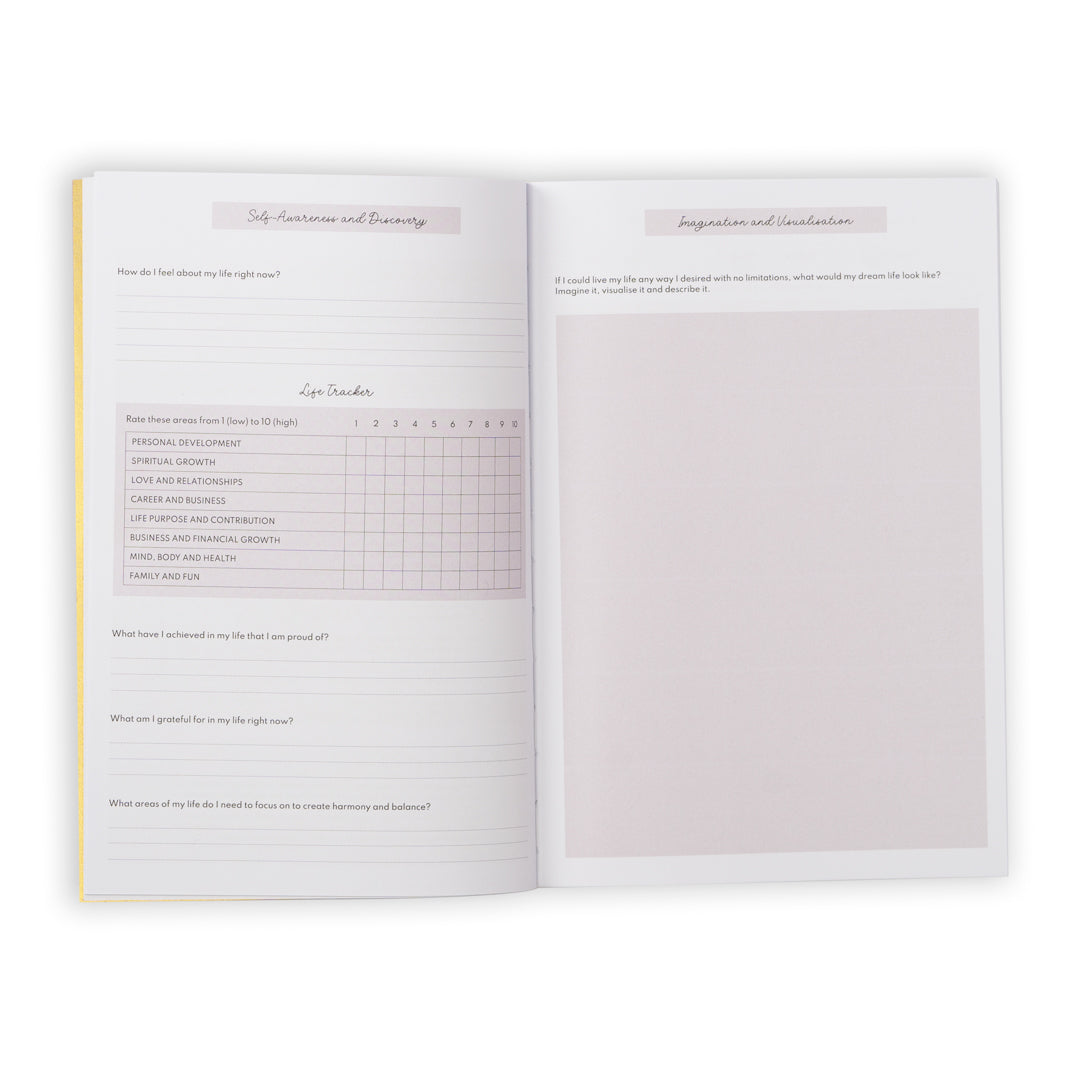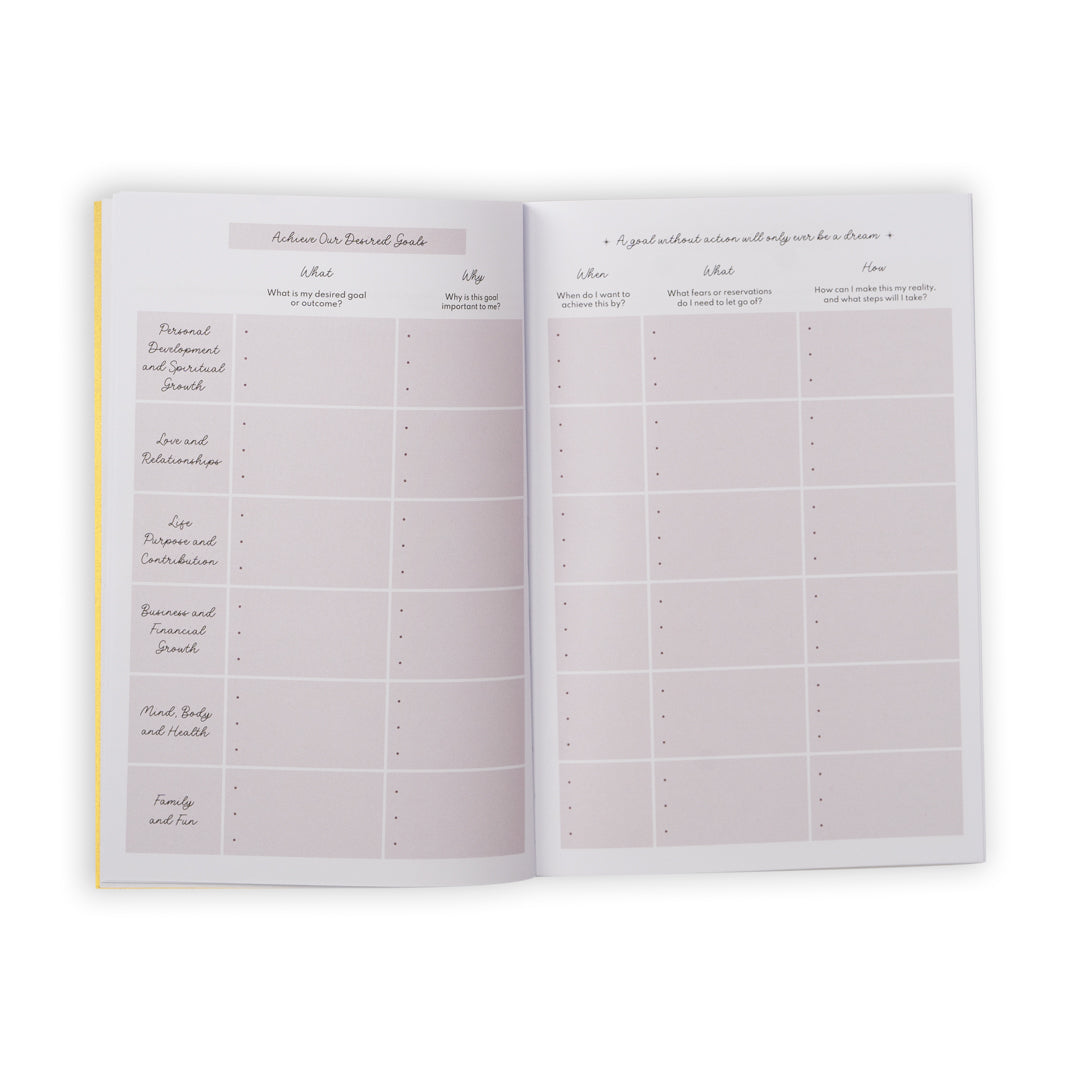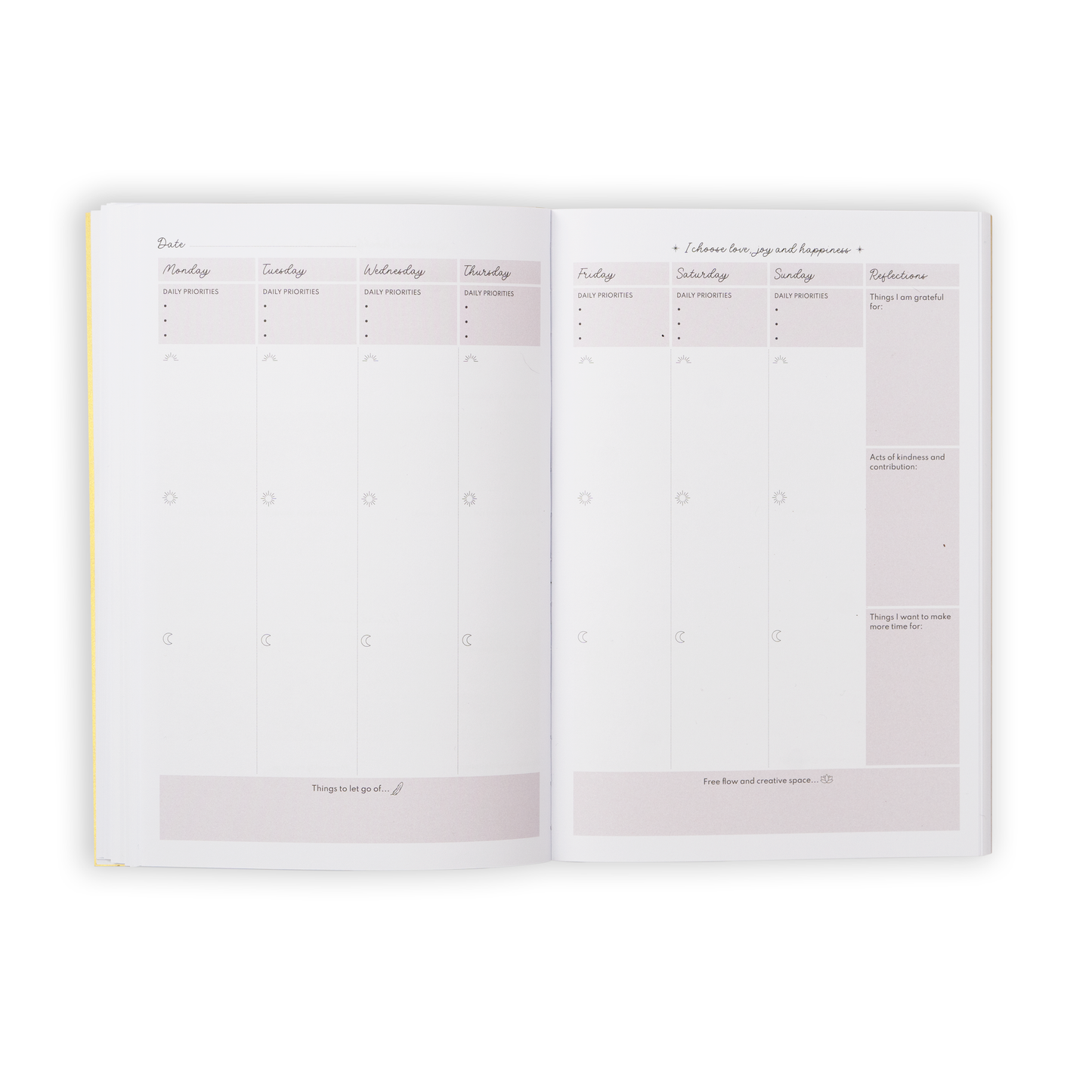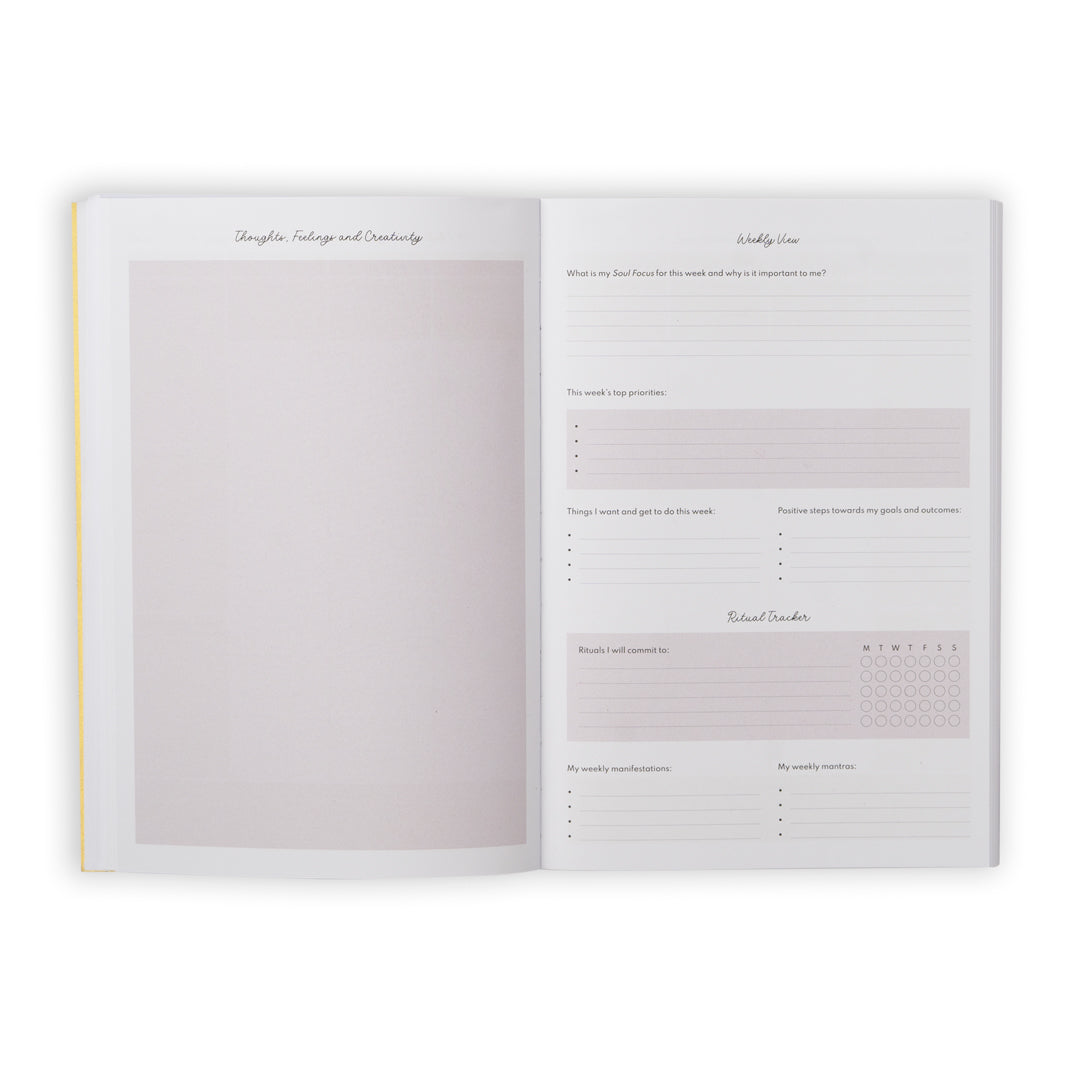 The Goddess Guide

The Goddess Guide is a Life-Changing Life-Planner that leads you down a pathway of self-awareness and self-discovery to awaken your inner Goddess. Guiding you on your own unique and personal journey to a place where your dreams become your reality.

As you follow these simple yet effective steps towards your desired goals and outcomes, you open up a world empowering belief and infinite possibility.

The Goddess Guide help's you to create harmony and fulfilment in all areas of life. Use it to create the life you want and the life that you deserve. To create empowering daily rituals and habits, express your creativity, set goals, make action plans as well as schedule and organise your everyday life with intention and ease.

Every tiny detail of this beautiful guide has been designed with purpose and meaning to connect and align your mind, body and spirit. 

Filled with positive affirmations and inspirational quotes to raise your emotional vibration and enrich your soul.

This 12 Month Planner is perfectly designed for women that want more out of life.
It's also intentionally undated so you can start your journey as soon as you feel ready and take a break anytime you like.

How it works

As you follow the 8 simple, effective steps of the 'Goddess Guide Journey' you will become your own Life Coach and Spiritual Teacher.

The 8 Steps:

The introduction part of the planner gives you a detailed guide on how to get the most out of your life planner and the workbook pages set you up for a happy, fulfilled and successful life.

Bringing focus and awareness into your daily life inspires you to take action in alignment with your inner Goddess and the life that you want to create.

Using your weekly diary pages to schedule time and space with intention and ease keeps you on track and focused on your goals, de- cluttering and freeing your mind. Writing down and repeating your daily mantras reinforces your positive thoughts patterns, new belief systems as well as lifting your emotional and energetic vibration.

Your life is a reflection of your daily rituals and habits. Rituals are acts of self-care and self-love that we choose to do consistently with intention, awareness, and purpose. When we take consistent care of ourselves, we have more to give and more to share with those we love and those around us.

Using your weekly Ritual Tracker inspires positive change, accountability and a sense of balance and harmony in all areas of your life.

The monthly Reflection pages help you to reflect on your journey so far and to acknowledge what you have achieved, what you have received and the challenges you have overcome, creating a sense of gratitude and fulfilment. Celebrating all aspects of life reminds you to be grateful for the smallest of things as you continue your infinite path of self-discovery, self-awareness, enlightenment, and love. Honouring your journey as well as your desired destination.

The Goddess is YOU!
Supporting 'Refuge' Charity
My mission is also to help women and children that are struggling and going through similar traumatic experiences like I once did, that are in desperate need of help and support. That's why I chose the 'Refuge' charity that support families living with domestic violence. Their aim is to empower women and children to rebuild their lives, free from violence and fear and give them all the support they need throughout this process. That's why I donate 10% off ALL profits from Soul Focus to the 'Refuge' charity. Every time you purchase one of my products, you are helping these women and children to build a better life. To find out more about what they do and how you can support them please visit theRefuge website.